I've used several digital photo management programs over the years, including the ones included with my digital camera and my printer. All of these programs have functioned to some degree of mediocrity. Recently, I downloaded a copy of Picasa and took it for a test drive. I was pleasantly surprised.
After I installed Picasa, it searched my computer's hard drive for photos and organized all the photos by year – something I never had the time, inclination, or foresight to do myself. This made it incredibly easy to browse my photo collection (see below).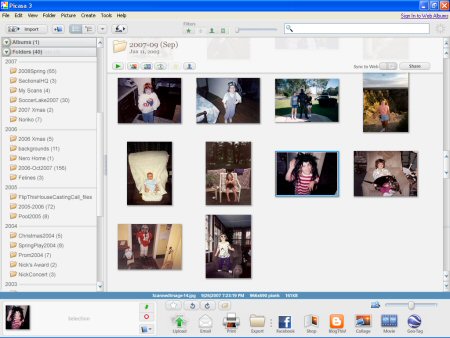 Double-click a photo, and it appears by itself along with several very useful digital photo editing tools (see image below). Using these tools, you can quickly crop, straighten, and enhance the photo. The tool for repairing red-eye is outstanding. Most programs I've used in the past draw a box that's too large around the area where the program identifies red-eye. Picasa targeted the red-eye areas precisely, and with a single click of approval, I was able to fix the problem immediately.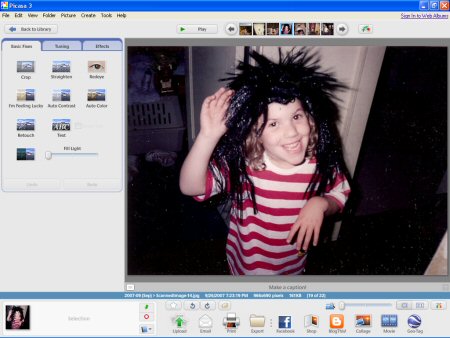 Below the photo viewing area are several buttons that provide quick access to uploading, emailing, or printing photos; buying prints or products from your favorite online provider; posting your photos to your Blogger blog; and creating a collage or movie with selected photos. Using an application on Facebook (Picasa Uploader), I was able to add a button that allows me to upload photos directly from my computer to my Facebook account.
What I like most about Picasa is that it combines power with simplicity. I think programs are often more complicated than they really need to be. With Picasa, digital photo editing is pretty easy. To find out more about Picasa and download your free copy, visit Google's Picasa Page.
If you use Picasa or other programs or online services for managing and editing your photos, please share your experiences and insights with others by posting a comment.