For many years, I've been convinced that Microsoft had won the war of the Web browsers with its Internet Explorer. Sure, a handful of people use Safari or Mozilla Firefox, or some other browser, but according to Net Applications, Internet Explorer accounts for about 73% of the usage share in Web browsers (Mozilla Firefox 18%, Safari 6%, and Opera, Netscape and others representing less than 2% combined).
Yet, search engine company Google has felt the need to enter the fray with its new browser Google Chrome. Personally, I'm pretty happy with Internet Explorer, so I see no reason to switch, but I figured I'd give Google Chrome a whirl just to make sure I wasn't missing out on some fantastic new feature. (You can download and install Google Chrome for yourself by visiting www.google.com/chrome.)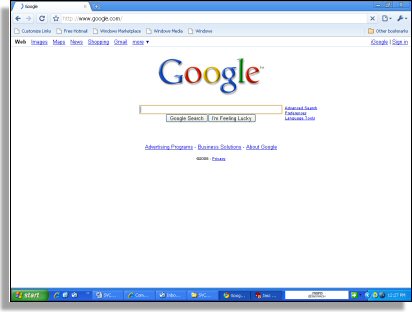 Here's a list of what Google considers the top features of its new Web browser followed by my perspective (in italics):
New Tab page: Designed for convenience, the New Tab page shows a sample of your most visited sites, most-used search engines, and recently bookmarked pages and closed tabs. 99.9 percent of the time, I find myself going to Google to search for what I'm looking for, so having all this stuff pop up doesn't help me. I'm also concerned that it'll make the new tab take longer to load, which is exactly what happened when I set up a custom Google home page using Internet Explorer. I'd rather have a very simple page open when I create a new tab.
Application shortcuts: Some websites function more like applications than simple, static pages, so Google Chrome lets you create shortcut icons on your desktop for these applications. This just seems like another way to bookmark a page or create a shortcut to it. I don't see it as any major breakthrough in functionality. It's more of a new way of thinking about something that's been around awhile.
Dynamic tabs: You can drag tabs out of the browser to create new windows, gather multiple tabs into one window or arrange your tabs however you wish. Dragging tabs within my browser window is good enough for me, and I can already do that in Internet Explorer.
Crash control: In Internet Explorer, if a Web page on one tab crashes, it takes down the whole browser. In Google Chrome, the tabs act more independently. If one page crashes, I can close the tab without closing down my browser, restarting it, and opening all the pages I previously had opened. Great feature, but still not enough to get me to switch.
Incognito mode: In Incognito mode, I can browse without leaving a trail of Web site addresses I've visited. This "privacy" doesn't really concern me. If my kids were younger, I think I'd be more concerned that they'd have an easier time hiding their wanderings from me. (Besides, Microsoft is building this capability into its next release of IE.
Safe browsing: Google Chrome warns you if you're about to visit a site that increases your vulnerability to phishing, malware, or other threats. Big whoopy, most browsers have security features.
Instant bookmarks: You can bookmark a page simply by opening it and clicking the star next to the page address. Not bad, but I don't bookmark pages all that often anyway.
Importing settings: Google makes it easier to switch browsers without losing anything, because when it installs, it can import bookmarks and other settings from your previous browser. This is great, but first you have to convince me to switch.
Simpler downloads: If you click a file to download it, you don't have to deal with a separate window or dialog box that pops up. The download progress is displayed right inside the browser window. Again, big whoopy. I have no problem dealing with a little pop-up window when downloading files.
Speed: Supposedly Google Chrome will load certain pages faster than Internet Explorer, but I've heard these claims before, and I don't see much of a difference among the browsers I've tried. What seems to have more of an effect on speed is my Internet connection and anti-virus software.
Something I really don't like is that I can't find a HOME button anywhere. When I browse, I feel a little like Dorothy in the Wizard of Oz. I like to wander, but I always like to feel that I can click my heels together and head home – to Google's home page where I can start another search. I can't find a HOME button. If I'm missing something, somebody please let me know.
Am I going to switch browsers? Probably not. I don't see anything I couldn't live without here and I don't see something I definitely can't live without – a prominent HOME button.
No, I'm not on Microsoft's payroll. I'm just tired of seeing companies rolling out the same old wheel and pretending that it's a marvelous new invention. I'm sincerely unimpressed.
If you tried Google Chrome, let me know what you think. Does it have enough to convince you to change browsers?