Before you take the plunge to upgrade your computer from an earlier version of Windows to Windows Vista, determine whether your computer has what it takes to run Vista. You don't have to try to decipher the gobbledygook on Vista package – the Minimum System Requirements. Microsoft has a nifty (FREE) tool you can download that checks your computer to determine whether it's Vista-friendly. Simply click the following link to download and install the Windows Vista Upgrade Advisor and then follow the onscreen instructions.
The Windows Vista Upgrade Advisor scans your computer and any peripheral devices attached to it and lets you know when the scan is complete. You can then click the See Details button to determine the results. The Windows Vista Upgrade Advisor then displays a screen like the one shown here, indicating whether your computer has the right stuff for Vista. (The scan may take several minutes, depending on the complexity of your computer and the number of peripheral devices attached to it.)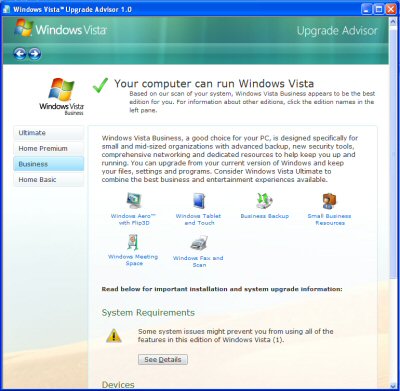 Warning: Windows Vista is packaged on DVD, not CDs. If your computer is not equipped with a DVD drive, you'll need to order the Vista installation CDs. Visit the Windows Vista Alternate Media page for details.