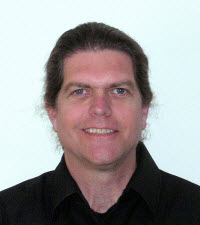 Hi! I'm Joe Kraynak, author of The Complete Idiot's Guide to Computer Basics, Master VISUALLY Optimizing PC Performance, Google: Top 100 Simplified Tips & Tricks, and numerous other books.
I launched ComputerChimp.com to promote my books and offer beginning and intermediate computer users a collection of tips and tricks for making the most of their Windows-based PCs.
Although I cannot provide everyone who's likely to visit ComputerChimp.com with individual attention, I will try to address the most common problems that beginning and intermediate computer users face. I will also write about problems that I have encountered, their solutions, and how I discovered the solutions. By documenting my approach to solving my own computer problems, I hope to reveal how you, too, can become a more self-sufficient PC user.
Some History
In 1989, with no computer experience, I was hired by the top computer book publisher in the world to edit computer books. I had a bachelor's degree in philosophy and creative writing and a master's degree in English literature. On my first day, I was led to a desk on which I found an old Macintosh computer (a hand-me-down from my supervisor) and a manuscript for a book about troubleshooting and optimizing Macintosh computers. I was scared to death.
Over time, I became comfortable using my rickety old Macintosh computer and had little trouble transitioning to an MS-DOS based PC and later a Windows-based PC. In about a year's time, I was not only editing manuscripts but also tech-checking them against my own experience and contributing content. After my second year, I assumed the position of staff writer.
It's amazing how much you can learn in a hurry when you need to keep a job. I know what it's like to have to perform a job when your computer won't cooperate. Hopefully, some of the articles I post here will help you solve at least a few of your problems and empower you to solve others and tap the full potential of your PC.
About the Logo
Special thanks to my talented nephew John G. Kraynak of aliendesign for designing the logo that welcomes all human and non-human visitors to ComputerChimp.com. John is a talented and experienced artist and photographer and a very funny guy.