If you received a Microsoft Word document from a colleague or friend and can't open it, it's probably because it's a docx file — the default file format starting with the release of Microsoft Word 2007. If you try to open the file in an earlier version of Word, you probably get a dialog box that looks like this: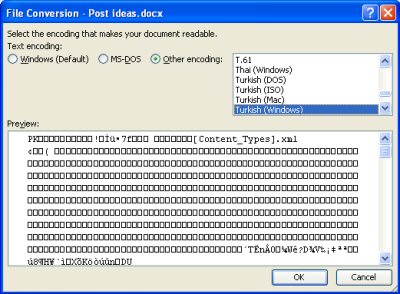 Fortunately, Microsoft offers a solution. If you're running an earlier version of Microsoft Office on a Windows PC, install Microsoft Office Compatibility Pack for Word, Excel, and PowerPoint 2007 File Formats. Be sure to follow the instructions carefully and install critical updates for Microsoft Office prior to installing the Compatibility Pack.
If you're running Office on a Mac, install Open XML File Format Converter for Mac 1.0.2.