I always recommend that people back up the data on their computers, and now backing up has become easier than ever with the latest lines of portable hard drives. I recently purchased a Western Digital My Passport Essential
portable drive that plugs into the USB 2.0 port on my computer.
I have two computers, each of which is equipped with a relatively small hard drive (under 100GB). For less than $75, I was able to purchase a 250GB portable drive that allows me to back up everything on both computers with room to spare.
The drive comes complete with WD Sync – a program that automates the process of backing up and restoring files and email. WD Sync is actually much more than your average backup program, allowing me to:
Back up my files and folders.
Back up my email program.
Back up all of the shortcuts in my Web browser.
Encrypt all the files, so if the drive is stolen, my files are safe.
Plug the portable drive into any Windows-based PC and access my files and email just as if I were working on them on my office computer. (I don't have to copy the files to the computer I'm working on, so I don't have to worry about leaving sensitive data behind on a computer that's not mine.)
When I get back to my office, I can plug the portable drive back into my computer, click the Sync command, and WD Sync updates all the files I modified on the road, including my email!
Here's what the WD Sync interface looks like. Unfortunately, the unit comes only with instructions on how to use the hard drive. I found no instructions on how to use WD Sync. I figure Western Digital thinks that the program is so intuitive to use that it doesn't need to provide instructions. However, some basic instructions would have helped. You'll have to play around with it for a bit to get everything you want transferred to the drive.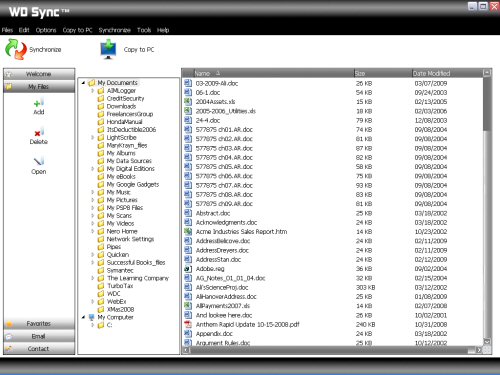 Remember: Before you head out on the road with your portable drive, make sure you sync it, so you have the latest files and email messages. I also recommend that when you first start using your drive, take it for a test drive. Plug it into another computer at home or work or into a friend's computer, and make sure you can access the files and other data you'll need when you're on the road. You don't want to find out when you're 600 miles from home that you're missing a critical file or folder.
If you have one of these drives or some other make and model of a portable drive, please post a comment describing your experience. Feel free to share any tips or cautions, too!